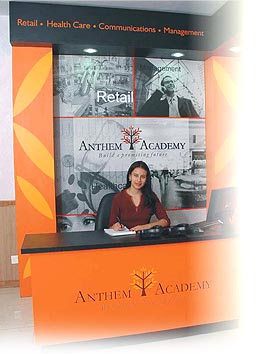 Today's rapidly evolving economy is throwing up opportunities across a spectrum of specialisations. Anthem Academy's professional training programmes are designed to equip our students with key competencies and skills required to build successful careers. Our programmes not only help make our students preferred candidates during placements but also help them build sustainable growth paths in their careers.

Anthem Academy is in step with the times and has specially-designed courses aimed at the booming industries of organised retail and modern health care.

At Anthem, we pride ourselves in our ability to understand skill sets required of the future workforce. Through an active interface with industry, we remain in touch with key trends that are shaping people requirements. We have designed contemporary and relevant curriculum that best prepares our students to succeed across shifts in manpower requirement.



The future begins here...